A few weeks ago I wrote a post about Living Books and filling my home with great books for DK. I love books and I love children's books and I love sharing good books with great friends! So without further ado is a list of some of our current and past faves.
I would say this list is good for the 0-3 age cohort. There aren't a lot of words per page, the illustrations are engaging and include items your child is familiar with (and likely excited by, i.e. animals, cars, toys). Many of these books rhyme or have a nice diction when read aloud, which little ones really enjoy.
A lot of these books I was able to find at library book sales or used bookstores because they were popular in the past, but are now considered "dated". For example, my library doesn't have a copy of Each Peach Pear Plum to lend because it was published in 1978, but I found it at their book sale because many kids had it in their bookshelves in the 80s! All of these books can be found new on Amazon, however. But you might not find them on the shelves at your local Barnes and Noble or Indigo.
1. A House is a House for Me – Mary Ann Hoberman (1978)
I love this book. It is a poem. The illustrations are extremely detailed and after probably 100 readings (I have the poem memorized now), I still love this book and find new things in the illustrations.
"A hill is a house for an ant, an ant
A hive is a house for a bee.
A hole is a house for a mole or a mouse,
And a house is a house for me"…
Seriously this book is amazing. Read it.
2. Boy + Bot – Ame Dyckman (2012)
DK loves this book. It is about a friendship between a boy and a robot. Is it a bit odd that the parents aren't concerned that their son is being brought home in the middle of the night by a Dr.Evil-esque robot inventor? Yes. But I don't let that get in the way of a cute story of childhood imagination and friendship.
3. Clap Your Hands – Lorinda Bryan Cauley (1992)
This is a great book for burning off some afternoon energy as it gives simple instructions for body movements in rhyme form. The illustrations are colourful and include a cast of children and animals.
"Reach for the sky, wiggle your toes.
Stick out your tongue and touch your nose."
4. Dear Zoo – Rod Campbell (1982)
This is a classic lift-the-flap book for babies and toddlers. I love that it uses repetition as well as rich adjectives (fierce, grumpy) to describe the animals.
5. Don't Let the Pigeon Drive the Bus – Mo Willems (2003)
This book is really funny and DK loves it. It's because of this book that two of his early words were "bus" and "pigeon". It is about saying no to peer-pressure and even the youngest speaker can say "NO!" to the Pigeon when he begs to drive the bus.
6. Each Peach, Pear, Plum – Janet and Allan Ahlberg (1978)
A rhyming find-it book that also introduces fairy-tale characters, Each Peach Pear Plum is a simple and well-illustrated staple on our bookshelf.
7. Forest Bright/Forest Night – Jennifer Ward (2005)
I love this book for teaching about nocturnal/diurnal animals. The illustrations are beautiful and it shows that while some animals are sleeping, others are awake. It is written in rhyme and the language is very rich.
"Sun light, forest bright,
After sleeping through the night,
Leap and flash…deep splash.
Climb and stumble…bear cubs tumble."
8. Freight Train – Donald Crews (1978)
This is one of DK's absolute favourites for winding down to bedtime. Similar to the meditative cadence of Goodnight Moon, Freight Train is a zen reading experience. It includes colours as well as train-specific jargon as a train chugs past the reader off the page [to dream land].
Even now, when DK is upset, I can recite, "A train runs across this track. Red caboose at the back…" and he calms right down. We are actually on our second copy of this book. It is well-loved.
9. Goodnight, Goodnight Construction Site –
Sherri Duskey Rinker and Tom Lichtenheld (2011)
DK, like similar two-year old boys, is really into cars, trucks, trains and construction equipment. This is a great story about all the different machines going to sleep for the night. It is also told in rhyme.
10. Goodnight Moon – Margaret Wise Brown (1947)
I did not like this book before I had kids. I thought the pictures were hideous and I thought the story was annoying. But a dear friend gave it to me as a baby shower gift, so I grudgingly read it to DK when he was a baby and it would calm him and help him fall asleep. This book was magic. I now think it is one of my favourite children's books because as it is read aloud, it almost reminds me of a Gregorian chant. It is so soothing and meditative.
11. Harry the Dirty Dog – Gene Zion (1956)
DK loves this book and I think he can really identify with its main character – a dog named Harry who hates getting a bath. Harry runs away from his bath to play in train yards, construction sites, and car repair shops, which is probably DK's toddler-fantasy. In the end, *spoiler alert* Harry gets a bath – so if you're looking for a book that might encourage cleanliness among little boys – this might be the perfect book for you! There aren't too many words per page and the illustrations are cute.
12. Jamberry – Bruce Degen (1983)
This is a book I dug out of my old childhood book boxes. As a child I loved it because of the verse:
Strawberry ponies
Strawberry lambs
Dancing in meadows
Of strawberry jam.
DK is partial to:
Trainberry
Trackberry
Clickety-clackberry
And so the world turns and a new generation reads a beloved classic!
13. I Love Bugs! – Emma Dodd (2010)
I like that this book doesn't give a bunch of facts and names for specific bugs – instead it just describes them as a child might – using descriptive adjectives and includes specific bugs in the illustrations. It is very fun to read aloud as you recite fun tongue twisters like:
"I love springy jumpy leapy bugs
and slimy crawly creepy bugs."
14. If You Give a Mouse a Cookie – Laura Joffe Numeroff (1985)
For some reason, I thought this book was for older children – like 5 year olds. But my two year old is obsessed with it (as well as other similar titles by Numeroff) and I'm glad I brought it home from the library book sale. I think DK might identify with the mouse, whereas an older child might identify with the boy taking care of the mouse. I know I definitely feel as exhausted as the boy at the end of the day with DK!
15. Motor Goose – Rebecca Colby (2017)
This book is very well written. It is a parody of Mother Goose rhymes re-written with motorized vehicles of all shapes and sizes as the stars! A two -year old boy's dream! Sometimes I am hesitant with Mother Goose rewrites because they aren't exactly right in rhythm and cadence and rhyme…but this one is very well done. I have every single poem memorized now. *humble brag*
16. Mr. Brown Can Moo, Can You? – Dr. Seuss (1970)
When I was a kid, my dad used to call me "the girl of a thousand voices". Maybe that's why I like this book so much – I can practice all the sounds and voices I've been perfecting for thirty years. I love how this book includes onomatopoeia (and I love that I get to use that word in a sentence!) and we can read it either with the word "Pop!" or making a popping sound with our lips. DK loves trying to make all the different sounds with his mouth.
17. Potty – Leslie Patricelli (2010)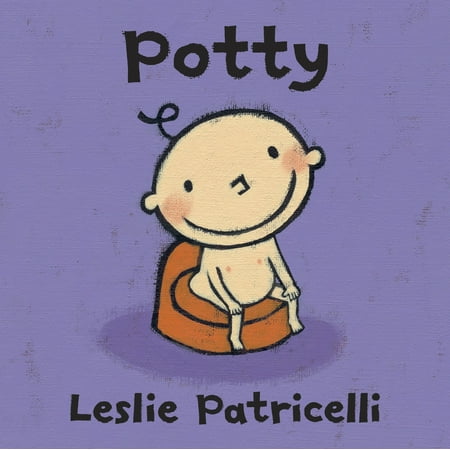 I have been trying to get DK interested in the potty since his second birthday. This is the book that he really enjoyed and didn't slam shut saying "no no no no no" about the potty. It's cute and DK loves celebrating with the baby at the end of the book when he goes potty.
I can't claim that this book is the answer to potty training though because I have yet to be successful with that milestone!
18. Red is Best – Kathy Stinson (1982)
This is another book I dug out of my childhood book box to read to DK. I love how it acknowledges that a child has legitimate reasons for wanting things a certain way and that mom's reasoning isn't necessarily better. It meets a kid where they are at and sympathizes with them.
"My mom says, "Wear these. Your white stockings look good with that dress." But I can jump higher in my red stockings. I like my red stockings the best."
19. School Bus – Donald Crews (1984)
Another by Donald Crews! It follows a school bus around the town to pick up and drop off children to and from school. If your little one is into buses, this is a must-have.
20. Sheep in a Jeep – Nancy Shaw (1986)
Another great book with short rhyming phrasing and rich language. DK particularly loves this one because it includes a jeep, mud, pigs, sheep and a crash.
21. Ten Apples Up on Top – Dr. Seuss (1961)
This is an excellent book for counting but also for learning other important math concepts like "more", "less" and "equal".
22. The Little Engine That Could – Watty Piper (1940)
There are shorter adaptations of this book, but I just love the original by Watty Piper. I love the illustrations. I love the repetition. I love the extra details and the more difficult language. This is a classic book about believing in oneself and perseverance.
23. The Snowy Day – Ezra Jack Keats (1962)
When I was a kid, I thought this book was terrible. Now I think I just read it too late to appreciate it's beautiful simplicity. It is definitely a book for the 2-4 year old crowd as they explore the magic of snowfall. DK loves this book and there is a little 38 minute film adaptation on Amazon Prime that is also very sweet and age appropriate.
24. The Three Billy Goats Gruff – Paul Galdone (1973)
Fairytales and nursery rhymes are such an important part of English-speaking culture, and I think they are crucial reading for children. Some, however (like Rumpelstiltskin or Hansel and Gretel) are a bit too scary for 2 year olds. The Three Billy Goats Gruff is a good one for toddlers. It's got great voicing for story-telling, it isn't very long, it's not scary, and it teaches about standing up to bullies. I also love that this one is easily adaptable to real life; DK loves to say "trip trap trip trap trip trap" when we cross over foot bridges on our adventures (to imitate the sound the goat hooves make on the wood), and we always keep an eye out for trolls! Paul Galdone has written a really nice collection of the fairy tale classics, if you're looking for a set. I like that they are all separate books instead of in a big heavy treasury that is difficult for DK to hold himself – but they are all published in the same size and style so they match together on the book shelf.
25. The Train – David McPhail (1977)
This book was a serendipitous discovery at a used book store. I knew DK would love it, because it is about a train, so I bought it with just barely skimming it. But I love it too! It is about a boy whose train set in his bedroom comes to life at night and he works on the train doing all the various jobs required on a steam train (stoking the boiler, driving the train, loading luggage, clipping tickets, selling food). It's a very cute book and a great one for bedtime. DK often chooses this one to take to his crib to look at as he falls asleep.
26. The Very Hungry Caterpillar – Eric Carle (1969)
I'm sure everyone has heard of this book – it is a classic of children's literature. Until I read it as an adult to my child, I didn't realize how it incorporates natural sciences (metamorphosis), math (counting up to 5), the days of the week, and nutrition (healthy food versus junk food, feeling hungry versus feeling full). In such a simple text, so much is communicated and as such I have a deep respect for this book and its author.
27. They All Saw a Cat – Brendan Wenzel (2016)
This book is about how different critters (humans, animals, bugs) see the world differently. It's a perfect book to teach about perspective (bird's eye view, for instance), differences between people, and artistic style. This book is the definition of "a picture tells a thousand words". They give some great ideas for the mind to chew on.
28. Waiting is Not Easy – Mo Willems (2014)
I love Mo Willems. He's probably my favourite contemporary children's author. I've loved every single Elephant & Piggie book I have read so far and I think they are a staple for every child's bookshelf. The writing is simple and straightforward, but they teach in a by-the-way and funny way about things many children struggle with. They are all-ages in ideas and content, and great early-readers for kids just learning to read.
This year for DK's birthday party, we did an Elephant & Piggie theme and asked guests bringing a gift to please bring an Elephant and Piggie volume to add to our collection. I'm so glad we did! We get so much joy out of these books. Waiting is Not Easy is one of our favourites! It is also a nice line to be able to trot out when DK is frustrated that he has to wait for something…"Waiting is not easy!"
29. Who is the Beast? – Kenneth Baker (1990)
This is a clever book about seeing differences and similarities in ourselves and others. The illustrations are beautiful and DK loves finding similar animal body parts on two different animals as we read (i.e. a tail on a tiger and a tail on a monkey).
30. Yummy Yucky – Leslie Patricelli (2003)
DK will pick up this book and read it to himself, babbling away and then screaming "YUCK", before turning the page. It is simple and has given me some great wording and a reference for when DK puts something in his mouth that is yucky (or yummy!).
My husband and I do find it amusing that DK's favourite (and only) foods he consistently eats are the yummy examples in this book. Perhaps it has done more harm than good?
What are some of your favourite books for toddlers? I'm always looking for more!